5 Thrilling things to do in Bagan
Bagan is the land of ancient ruins and pagodas, and it is an amazing place for sightseeing. There were over 10,000 Buddhist temples and pagoda during the rise of Bagan kingdom. Now, only over 2,000 ruins left due to natural disasters and other causes. It is not only a popular tourist attraction, but also a popular vacation spot for the locals. The city is frequently visited by many tourists and locals every year. There are many activities you can enjoy in Bagan, but here are out top list of 5 thrilling things to do in Bagan.
The plain-of-Bagan is filled with breathtakingly beautiful ancient-ruins and you might not even know where to start your journey. Here is our complete guide to narrow down things to do in Bagan.
Rent an E-bike and take a tour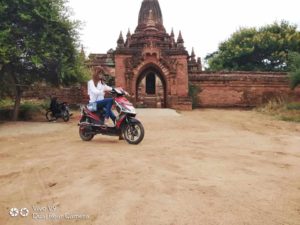 Finding transportation during a trip is always headache for the visitors. But, it is quite easy to travel around Bagan because you can easily rent an E-bike cheaply. You only need to pay 8000 Kyats for renting E-bike the whole day. So, you can take a tour around the city freely and explore as long as you wish in every place. If you go with a tour-group and tour-bus, you can only go to certain-places and only get short-time to explore. There are many E-bike rental places around the city and some of the hotels also have E-bike rental service.
Get a drawing on hand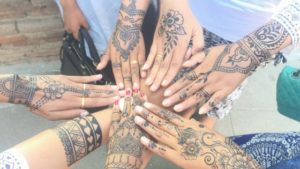 It is a popular activity and unique experience to get a Myanmar art drawing on hand. This is also known as temporary tattoo painting, and you can easily find a painter near the pagodas. Hand painting is quite cheap and the price is around 1000 – 5000 kyats. The drawings are beautiful and it will be a great memory for your trip to Bagan.
Take a photo with marionettes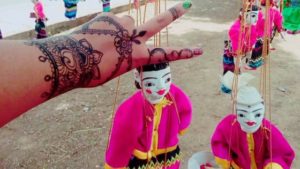 There are many marionette shops near the pagodas and the marionettes are hanged from the trees. The colorful marionettes are breathtakingly beautiful and you will definitely want to take a photo with them. You should also buy one to bring a piece of Myanmar art back-home and marionettes are one of the best-souvenir.
Ride a boat on Ayerwaddy river and see the sunset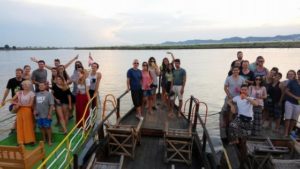 Most of the sunset watching spots are crowded with tourists and locals. If you prefer to have a quite and quality time with your love or friends or family, take a boat-trip. It is easy to rent a boat for a short-trip to see the sunset and unforgettable moment is a plus. Especially with your love one, it will be a very romantic moment for your couple.
See the view of Bagan from Nan Myint Tower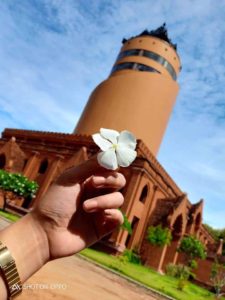 Nan Myint Tower is the popular place for the visitors to view the whole plain of Bagan. Tower is also one of the best spot to see sunrise and sunset. It is located at the eastern part of Bagan's archeological zone and Nyaung Oo Airport and not very far from the town.
The entrance fee of Nan Myint Tower is 5 USD per person and the viewing are is located from the 11 the to 13th floor. There is a bar on top of the tower and restaurant on the 9th floor. So, you can take a sip on your favorite-drink and enjoy the magnificent-view of Bagan.