Things to do in Bagan at Night
Bagan, the home to thousands of temples and ruins does not have ordinary entertaining nightlife such as clubs. But there are other things that visitors can do in Bagan at night and quite enjoyable as well.After enjoying the beautiful sunset, you might wonder what else things to do in Bagan at night. Because, non of the visitors would want to waste time at the hotel during their visit to this ancient town. Don't worry.
Bagan does have an excellent nightlife and you will love it. However, it is not safe for foreigners to go around the city very late at night. At night, locals in Bagan sleep early therefore the streets are usually empty around 10:00PM. You will have the risk of being robbed late at night, so do not travel alone at night in Bagan.
Puppet shows
Some of the restaurants provide good traditional puppet shows. You can enjoy the very entertaining puppet shows while having dinner. Nanda restaurant and Hotel Yadanarbon restaurant have excellent puppet shows every night. The shows include several short pieces and some are very funny. The shiny marionettes in beautiful costumes are used as puppet for the puppet show. You can explore about some Myanmar history and myths through the puppet shows as well. Nanda restaurant is closer to Nyaung Oo, so if your hotel is in Nyaung Oo choose Nanda. Hotel Yadanarbon restaurant is in New Bagan, you should choose it if you are staying in New Bagan region.
Night market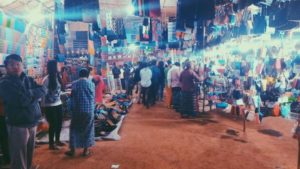 Every months in Bagan, different pagodas have special ceremonies, therefore you can find small night markets near the pagodas. You can enjoy the Burmese traditional street snacks and buy cheap souvenirs. It will be very exciting to see how the locals entertain themselves. You will see man-powered Ferris wheels because it runs on human strength but not on electricity or gas. It will be quite an eye-opener to explore the Myanmar traditional night market.
Dandaree Show at Bagan Golden Palace
The Dandaree show is usually scheduled at 6:30PM at Bagan-Golden-Palace and it is a very special show for any traveler. The performances in this show are breathtakingly incredible and it worth your time and money. The show starts at 7:00 PM sharp and the 70 minutes long show will give you a wonderful time. It has become one of the major attraction of Bagan and it is a must see attraction during your visit. Dandaree means Legend of Myanmar and the show performs the epic history of Bagan. After the show is over, you can take photos with the performers . The show ticket cost 50 USD and the show plus buffet dinner cost 60 USD.
Massage
After going around Bagan, riding bicycles/bikes all day long, and climbing on the temples, your body will definitely be aching. There are many Burmese traditional massage parlors in Bagan and you will find them very relaxing. One of the most famous massage parlor is at Shwe Pyi Nan Hotel. Usually, it cost around 8-10 USD per hour. In order to have a fresh new start for tomorrow journey, you should have a good relaxing massage tonight.