Where to stay in Bagan
When we are talking about where to stay in Bagan, we need to know the following things before choosing the right place to stay in Bagan. This post will help you too chose the right place to enjoy staying and exploring around Bagan.
When we say "Bagan", it actually covers three areas (Old Bagan, New Bagan and Nyaung U). Hotels and guest houses are spreading across these three areas. But each area has some distinct things which should be considered before selecting your place to stay.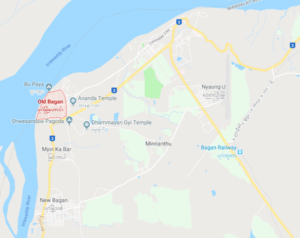 Old Bagan is the site of ancient Bagan Kingdom, which has many temples and pagodas within walking distance from your place. But at the same time, price for hotels and resorts at old Bagan can be regarded as upmarket price especially in Peak season. By the way, peak season to travel to Bagan range from November to March.
New Bagan have hotels and guest houses which offers mid range price to stay. It also has temples and pagodas within your walking distance from your hotel.
Nyaung U is an administrative city of Bagan and surrounding area and it has airport, bus terminal and train station. It is an lively city area with markets and restaurants. And most of the budget hotels and guest houses are situated in Nyaung U.
So that if you don't need to worry about your budget and you would like to stay in quite and less crowded place, you should choose hotels and resorts in Old Bagan. There you can also visit to nearby Pagodas and temples by foot especially in the evening. But you may still need a transport to go other places in Bagan and Nyaung U.
If you are on budget trip, you can choose between New Bagan and Nyaung U. But if your budget is really tight, you should forget New Bagan and go to Nyaung U. Nyaung U has many foreigner friendly cheap guest houses and B&B. But your travel time is not in peak season, you can choose new Bagan as most of the hotels discount their price during non-peak season (i.e. May to September).
If your choice is Nyaung U, you can enjoy and explore the lives of local people. You can also have choices over restaurants and bars and other activities.
Nyaung U is situated quite far from Bagan, so you need to prepare how to explore around Bagan. There are many options, you can take bicycle, electric bike or horse cart. My personal recommendation for you is to cycling for one day and horse cart for another day. With horse cart, you can go to some of the places which are not listed on local map.
I hope that based on the above facts, you can choose the most suitable place to suit with your budget, your travel style, your preference environment and your life style.
We have Hotels directory on this site where you can explore hotels and guest houses based on location, budgets and recommendation by other hotel booking platforms.